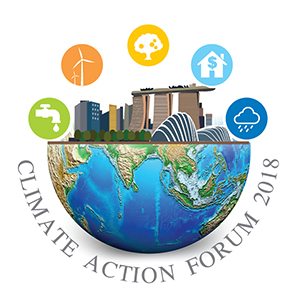 26 January 2018
ASEAN Focus for Climate Action Forum 2018
Conference to Drive Investment In Clean and Green Growth
Climate Action Forum 2018 will draw attention to key climate challenges facing ASEAN, the need to implement policies and the sense of urgency required to drive investment in green and clean growth in the region. The three-day conference and workshop will run from 8 to 10 May as one of the first major events in Singapore's Year of Climate Action.It will highlight the latest on climate science, as well as the climate nexus of water, energy and food security, and the investment opportunities linked to climate change mitigation.
Climate Action Forum 2018 is jointly organized by two home-grown Clean and Green enterprises, Green in Future and Sustain Ability Showcase Asia (SASA).
The Minister for Environment and Water Resources is in support of the Climate Action Forum and help highlight relevant issues and opportunities in the Year of Climate Action.
The event will involve the People, Private and Public (3P) sectors locally and in ASEAN, as well as financial institutions, youth and non-governmental organizations (NGOs).
The Chairman of the Organising Committee is Professor Jeff Obbard, an environmental scientist, ecologist and engineer, who previously served as Director for the Sustainable Development and Water Alliance at the National University of Singapore (NUS).
Professor Obbard expects the Climate Action Forum to stress the sense of urgency needed to deal with the impacts of climate change which are already making their presence felt in ASEAN and other tropical regions.
"There is a need for greater awareness in ASEAN of what needs to be done to deal with the greater frequency of extreme weather events linked to climate change and how the public and private sectors can work together to build climate resilience in countries, cities and communities".
More details at climateactionforum.com
Read full article of the launch event for the Year of Climate Action held at the Singapore Sustainability Academy https://www.todayonline.com/singapore/everyone-can-do-their-part-2018-earmarked-year-climate-change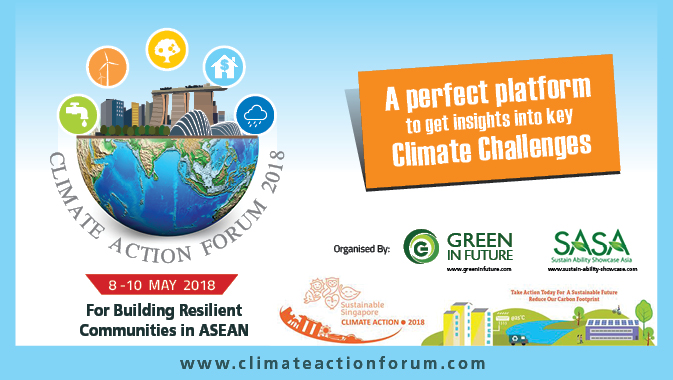 About Green in Future:
Green in Future works towards contributing to the Global Green community for attaining a smart and sustainable future. Its services include eNewsletters, Training, Workshops, Conferences and Research focusing on Green, Sustainability and Technology areas. Last year Green in Future organised the first Green Landscape Conference in Singapore. www.greeninfuture.com
About Sustain Ability Showcase Asia (SASA)
Sustain Ability Showcase Asia (SASA) is a home-grown Singapore consultancy in the business of initiating and communicating sustainability practices in Asia Pacific through products, services, processes and people.
SASA focuses on corporate sustainability programmes, energy efficiency, waste management, environment, carbon management, renewable energy investing and sustainability reporting. www.sustain-ability-showcase.com
Issued on behalf of the Organising Committee of Climate Action 2018 by Green in Future and Sustainability Showcase Asia (SASA).
Media enquiries to: Ken Hickson kenhickson@sustain-ability-showcase.com Telephone +65 81397472 Dr Parvathy (Paru) Subhadra paru@greeninfuture.com Telephone +65 9737 9356