Ebm-papst S-Force Compact Fans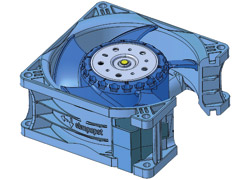 Ebm-papst is the globally leading supplier of motors and fans. By providing optimum application and system solutions to manufacturers of Air Conditioning, Refrigeration, Ventilation, Heating, Household and Electronic Cooling Equipment, ebmpapst has developed into a global market leader within its specific market segment and has now been maintaining its outstanding position for many years. Starting at the concept phase, materials and processes are designed to achieve maximum environmental compatibility, energy balance and recyclability.
Development is focused on improving motor technology, electronics, and fluid mechanics, whilst working on reducing energy consumption. The S-Force high-performance fans, for example, which overshadow its competitors in terms of power, air performance and efficiency due to the perfect interaction of motor technology, fluid mechanics, and intelligent electronics.
The S-Force series is composed of five smaller series with sizes from 80 to 220 mm. Each is the world champion in its class in terms of air performance and pressure build-up – with first-class motor efficiency and a long service life. Wherever you need cooling performance fast that is equally quick and powerful, they are a solution for which there is virtually no alternative.
Compact and uncompromising
The S-Force series reaches nominal speeds up to 14,000 rpm and operating values that had previously been attained only by larger fans. Harnessing this much power in the smallest space requires outstanding strength values. To equip the housing, stator, bearing system and rotor for high performance, a one-of-a-kind housing design was developed, with mechanical precision down to the smallest detail. Even before the first prototype was designed, state-of-the-art computer simulation programs ensured precise calculation of the critical parameters.
In doing so, all individual mechanical parts of the S-Force series, the material strengths and the fixed-link connection between the motor and housing were redeveloped from the ground up and adapted to the more stringent conditions.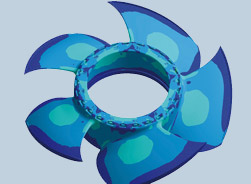 Maximum aerodynamic efficiency
The wide range of aerodynamic details boasted by each fan is a highlight of their pioneering engineering. Special impellers, developed just for the S-Force series, have a revolutionary impeller design that provides unmatched pressure build-up in the saddle. The especially steep curves of this generation of fans have values that push the limits of the possible.
The optimized inside contours of the housing, the small gap clearance between the blade and venturi housing, and the use of winglets on the fan blades also ensure exemplary running smoothness. The aerodynamically optimum design, coupled with maximum mechanical precision, enables the S-Force fans to have constant low noise.