Centennial Woods – Carbon Negative Reclaimed Wood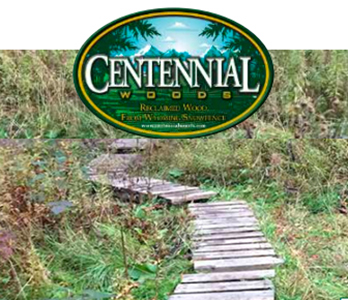 Centennial Woods™ is one of the largest providers of reclaimed wood in the world through maintaining and reclaiming the aged wood off of the hundreds of miles of snow fences lining the Wyoming highways.
Snow fences endure the harsh elements to make travel safer during Wyoming's brutally long winters. Wyoming's intense weather conditions are ideal for producing stunning and sustainable weathered wood. Before Centennial Woods™ began harvesting Wyoming snow fences, the older boards from the fences were either burned or thrown in a landfill when replaced.
What makes the recycled board's carbon negative is the skipping if the kiln drying process. Kiln drying is an important and energy intensive part of reclaimed wood. Wood has a certain amount of moisture content just by existing in the environment. So a 100-year-old piece of wood will still have moisture albeit much less than that of a freshly cut piece of wood. The kiln drying process removes this remaining moisture whilst eradicating any insects living in the wood.
The Wyoming climate is so intense that it naturally dries the wood and it does not have to go through this process, making reclaimed wood a carbon negative product. Highly sought after by green builders, Centennial Woods' products are free of chemicals, incorporate vibrantly, natural coloring and are naturally weather resistant. They can be used in their natural weathered grey state or surfaced to reveal fresh cut wood in combination with the beautiful patina. The company has become the premier provider of reclaimed wood to green builders all over the world.
By developing an international market for this sustainable and carbon negative resource, Centennial Woods™ has repurposed more than 18 million feet of reclaimed wood (as of 2016), avoiding more than 18,000 tons of CO2 emissions as of 2017. Centennial Woods' reclaimed wood is made of sustainably harvested Ponderosa Pine, Lodge Pole Pine, Douglas fir, and Spruce from the Rocky Mountain region. The wood is certified by Bureau Veritas on behalf of FSC® as FSC® 100% Recycled. The product also qualifies for MR (Materials and Resources) in the MR3, MR4, and MR5 under LEED credits.
The reclaimed Wyoming fence wood can be found in projects in Laramie, Seattle, New York, Dubai, and Singapore. The Singapore Green Building Council (SGBC) did a carbon impact study of the product and found that even accounting for shipping across the Pacific Ocean, this weathered wood is still carbon negative.